Report on Yellowbrick Tracking System testing on Southern Patagonian Icecap

Spanish Highs Mountain Guides testing the Yellowbrick Tracking system on the Southern Patagonian Icecap in November and December 2011.
We have been reviewing and testing the Yellowbrick 3 Tracking system on the Southern Patagonian Icecap recently. This is a remote and wild place and a good place to put the Yellowbrick and it's satellite network through it's paces. Here are our findings and observations.
Our Particular Requirements
Our previous experience on the Icecap in 2010 had been marked by high winds and bad weather. We got caught out and had a rough time getting off the glaciers. This year we wanted to try out one of the new 2 way messaging and tracking systems appearing on the market to aid communications and especially weather forecasting. Our requirements were:
  To obtain daily weather forecasts for the Icecap sent from our base in Spain
  To report our position to our website at least twice daily
  To be able to send emergency messages in case of problems or in rescue or evacuation situations
If the above were possible then we wouldn't have any need for a dedicated satellite phone.
Why Yellowbrick?
Quite simply, they were the first to offer us a tracker in time for our Patagonian Expedition starting on 19th November 2011. The Delorme InReach wasn't available (after months of delay!), the Spot Connect/Messengers aren't 2 way text messaging systems (they also use the Globalstar network, ineffective in Patagonia), and we needed something quick.
We found the staff at Yellowbrick most helpful, honest and accommodating. The Yellowbrick was still in development, but they said it would fulfill our requirements (see above). The tracker promptly arrived in Spain and we quickly managed to activate the unit, a simple process.
The Yellowbrick 3
What struck me about the Yellowbrick 3 was it's rugged solidity. It seems bombproof, useful in an expedition or mountaineering environment. It is enclosed in a tough weatherproof exterior casing and feels heavier than it's mere 305 gram weight suggests. It came with a soft pouch to protect the Yellowbrick 3, with velcro straps and restraining bungee cord. This attaches to almost anything you wish. In Patagonia we had it attached to a frontal rucksack strap, within easy reach.
The Yellowbrick can survive underwater for 30 mins in 1m of water and has been tested in yacht races throughout the globe, so it's use in a snow/mountain environment should be assured.
It has 4 basic  buttons (Up, Down, Left, Right) and an "Alert" button suitable hidden and protected. Unlike the earlier Spot Messengers one can't accidentally send an alert signal. There is a USB socket at the back for recharging that is also protected from weather and damage. All in all what I do like about the unit is it's simplicity. What I don't want to be doing in a blizzard is fiddling around with small knobs, buttons and Querty keyboards etc!
Testing
Our fellow guide, Jane Fields based in Spain, acted on our behalf of our Alerts and Message handling. She became our base communications person. She would receive the Alert or Emergency messages should we be unfortunate enough to need assistance. She had the Telephone numbers of the rescue services in El Chalten, Argentina. She would also provide the team with twice daily weather forecasts via the Yellowbrick.
You can send messages to the Yellowbrick via the dedicated website host or via an email address. Any message sent from the Yellowbrick can be automatically forwarded to whatever email you wish…… full review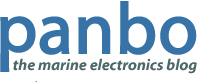 Yellowbrick 3, the Iridium 9602 strikes again
Aug 10, 2011
The UK company Yellowbrick has made a name for itself primarily by supplying offshore racing fleets with self-contained tracking devices based on Iridium's original 9601 short burst data modem. But the new Yellowbrick 3 hardware announced this week is build around the smaller, less expensive, and more able 9602 modem and Yellowbrick intends to sell it as a standalone marine safety, tracking, and communications product as well as use it for fleet rentals. Yes, the Yellowbrick 3 is similar to the DeLorme inReach announced earlier this summer, but it's got more features and flexibility, and it costs more…
Unlike the inReach, the YB3 has a small OLED screen which apparently can be used to "choose from hundreds of preset messages to send via e-mail or SMS, and receive messages back…" It also has a 5.3Ah LiPo battery that can purportedly handle over 2000 messages and which can be recharged via USB cable, and it supports an external Iridium/GPS antenna so it can be set up down below. But like inReach, the standalone device can be used via Bluetooth to send and receive custom messages using an Android or Apple apps phone or pad…full review